Santana Garrett
Women's Pro Wrestler!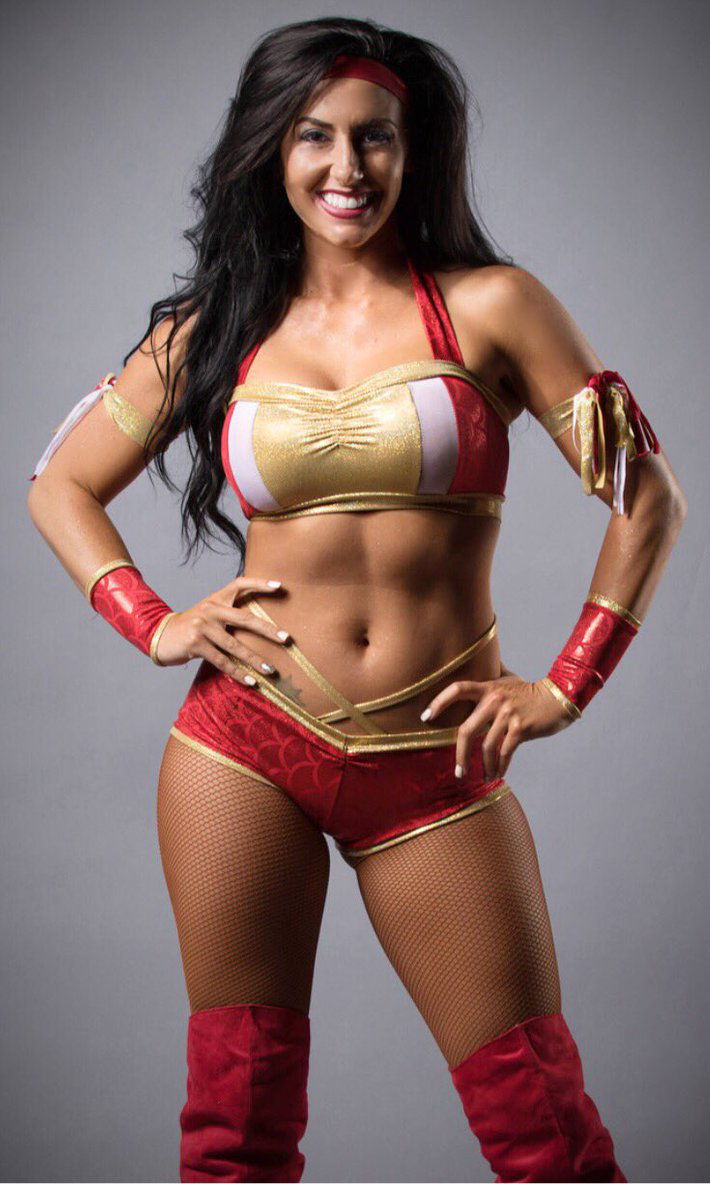 Santana Garrett came from a family where her father was a grappler.
"TNT" Kenny Garrett.   Otherwise, known as Kenny G.
Considering all the names that Santana has used over her career:
The Next Big Thing
Supernatural Superhero – (WOW)
Santana G
Brittany – (TNA)
Santana Wonder
The Midwest Sweetheart
It's pretty darn cool that the name that "stuck" is the one with the same last name as her father.
Standing at 5'5 inches tall with a billed weight of 119lbs, she looks much more strong and powerful than that and most opponents would most likely tell you that is the case.
Santana Garrett would be excellent at our style of REAL and COMPETITIVE wrestling holds on the Female Wrestling Channel mats.
Especially the Bodyscissors and Headscissors submissions respectively.
In terms of moves she uses in the Pro Wrestling Ring, Santana has often employed the following women's wrestling moves:
The Shining Star Press – Supernatural Moonsault
Bulldog
Crossface Chickenwing
Pantera Headscissors
Wrestling promotions have thought enough about her that she has earned the WOW Women's Championship, the NWA World Championship, the Shine Championship, the Shine Tag Team Championship, and the Wonder of Stardom Championship.
Keep in mind, the list of championships above is not even CLOSE to all of the championships she has won since first starting.
Here are some of the Pro Wrestling Companies you may have seen Santana Garrett work for:
WWE – (NXT)
Coastal Championship Wrestling – (CCW)
IWA Mid South
Orlando Pro Wrestling
American Pro Wrestling Alliance
Belleview Pro Wrestling
Championship Wrestling Entertainment – (CWE)
Conquer Pro Wrestling
Global Force Wrestling
Jersey Championship Wrestling
Masters of Ring Entertainment
National Wrestling Alliance – (NWA)
Nova Pro Wrestling
Pro Wrestling 2.0
Revolution Championship Wrestling – (RCW)
Ring Warriors
Riot Pro Wrestling
Shine Wrestling
Southern Championship Wrestling
USA Pro Wrestling
USA Wrestling Alliance
Wrestling Superstar
UWW Wrestling – (BELOW)
It's been listed that Santana's favorite women wrestlers include Sable, Trish Stratus, and Victoria.
Santana Garrett has faced off with ladies in the ring including:
Jessika Haze
Rosie Lottalove
Jillian Hall
Leva Bates
Mercedes Martinez
Taeler Hendrix
Barbi Hayden
La Negra Rose
Melanie Cruise
Brooke Tessmacher
Madison Rayne
and more!
In recent years, fans have seen Santana wrestle for the likes of WOW Women's Wrestling, she even had a REAL wrestling match against another woman at a company called Freshfite, and she is currently signed to a developmental deal and recently made her debut on WWE Raw months before the time of this writing.
Santana Garrett is seemingly open minded and perhaps not as scared of controversy as the average girl.
Evidence of this is her willingness to try REAL Women's Wrestling matches (most "Pros" won't) and she even debuted in TNA Wrestling in a sexy bi-sexual storyline angle.
Women who push the envelope like Santana have the ability to make it far in the Women's Wrestling business.
Content Involving Santana Garrett at the Female Wrestling Channel Listed Below!
Would you like a FREE Download EVERY SINGLE Friday from us in your Inbox?