Never miss a Ringo Letter or a Female Wrestling Channel Update!
https://femalewrestlingchannel.com/updates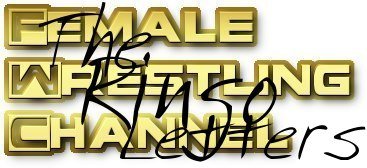 The Ringo Letters are the sole view of Johnny Ringo, the owner of the Female Wrestling Channel, and do not necessarily reflect the views of the females that work for this company currently or in the recent past. The Ringo Letters are to serve as a vehicle for Johnny's thoughts at a given time on FWC related subjects and non FWC related subjects.
THE RINGO LETTERS #11
Products and Services we use at The FWC!
I want to share with all of you some of the products and services we utilize here at the Female Wrestling Channel.
Listed below are things that may prove useful for industry producers, models, and fans alike.
Paypal
We process with Paypal here at the FWC for a number of reasons.
Paypal keeps your information on file with them within your account.  What this means for you, is that your credit card number will not be revealed over the web during transactions.  This helps cut down on fraud.  And, with most Paypal purchases you are covered on fraud protection.
Paypal also offers buyer protection.  On certain transactions, you can dispute the payment if the seller did not do as described and often get your money back when you otherwise may have had little recourse.
Once you have a verified Paypal account, you can purchase all kinds of things online through Paypal as many businesses offer it now as a checkout option.   You can use money that you have in your Paypal account, you can use a debit or credit card that you store on your Paypal account, or you can link your bank account.  Any of these options will allow you to purchase through the Female Wrestling Channel and other businesses on the web that offer Paypal as a checkout option as well.
Through Paypal, we can accept 25 currencies securely from 203 markets at the time of this posting.   "Wow" is right.  For businesses that do a lot of volume through Paypal, they offer Paypal Working Capital to those who qualify.  These loans are not based on your credit, they are based on your sales.  Paypal is close to having 200 million accounts at the time of this posting if they have not already exceeded it.
You can get a free Paypal Debit Mastercard so you can use the funds in your account anytime.  And, you receive 1 percent back on eligible purchases when using the card as a "credit" at checkout rather than a "debit" where you enter in your pin number.  There have been many times one of our ladies needed money on the spot.   With Paypal, they can have access to funds within seconds simply by sending money from our account to theirs.  Monroe Jamison and I use our Paypal Debit cards religiously.
By creating a customer account on this website and by checking out with Paypal you will have a seamless (and quick) experience anytime you want to login and purchase anything from us without having to pull out your debit or credit card.
For the first 20 people that sign up through the following link – you and I both will earn $5 from Paypal when you make your very first purchase – CLICK HERE
AirBNB
Many ladies and companies in the industry use hotels when they engage in mixed wrestling matchups with fans or sometimes when they have a 1 off match against another lady in the industry.
In our experience, it's very hard to find a large hotel room big enough for our 10 X 10 mats, and even when many do, it's a "look over your shoulder" type of thing because a lot of times these models and producers do not clear things with the hotel ahead of time.
What we do is use AirBNB.
We will use their search function and will look for places that are checked "suitable for events".
We often check other things as well, such as to see if they have high speed internet, parking on premises, how close they are to subways for our customers, and things of that nature.   For those of you who like to take your pets on trips, you can search for that as well.
I always send an email to the hosts ahead of time letting them know exactly what we will be doing, how many people will be staying, how many guests we expect, and so on.
We only book after we have approvals and have explained things in full.
It's a much better experience for our customers, because we only engage in situations where we can rent the entire house, rather than a shared room.
And, we also make sure ahead of time that they have ample room for our 10 foot by 10 foot wrestling mats.
This prevents ankles from flying into TV's, and crowded spaces, as you need a good amount of room to perform in a proper competitive wrestling matchup.
Are you traveling somewhere this year for business or pleasure?
Use THIS LINK and we will receive $40 when you take your first trip of $75 or more.
And, we will get an additional $75 in credit when you welcome your first guest who signs up and does the same.
Easy way to support us here at the Female Wrestling Channel if you are a traveler who is looking for more comfortable lodgings for yourself and your family.
Fiverr
Fiverr started out as a service where people would perform services for you for $5.
It has evolved since it's inception, as users can charge all types of differing amounts now.
However, it's still a good place to check when you need a very small job done.
Often times, I have needed something fixed in WordPress and used people on Fiverr.
Our intro and exit videos you see at the beginning and end of our videos at the FWC were also made by folks on Fiverr.
There are all kinds of people who will do video editing, voice-overs, fix website issues, and more on their platform.
Give it a look and see if there are services you can purchase for $5 OR services that YOU can offer and make money on as well if you have creative ideas.
Mailchimp
Mailchimp is a newsletter service.
Not only are they teaching me more ethical methods in terms of how to collect emails, and when to send them, and how to send them, but the best part, is that for the first time ever I can actually see who opens the emails and how many of the emails are getting opened.
For instance, what subject lines are working?
Which ones are not?
Are people even reading the emails I send out?
Learn more about Mailchimp by CLICKING HERE.
WordPress
Do you want a website?
Do you have one now?
I highly recommend using WordPress to showcase your website.
It's probably the single best content management system out there right now.
Many people think of it simply as a "blog", but it does way, way more than that nowadays.
It's fairly simple to learn and use.   The majority of people who use WordPress are not web designers or programmers.
The best part?
It's open source.
It's free to download, play around with, modify, whatever!!
The greatness of it being open source is that you can find all kinds of people on the internet to help you fix and improve things.
Fiverr mentioned above is a great place for help.
There are thousands of free templates to choose from so you can find the right look and feel for your site.
If you can't, that's no problem!
Your WordPress website will need a hosting provider.
We recommend WP Engine.
More on them below!
Plugins are a big part of WordPress as well.
There are all kinds of free ones.
And, there are a lot of good paid ones as well.
We will showcase plugins such as Pretty Link and WooCommerce below so you understand what plugins can do for your website.
DOWNLOAD WORDPRESS FOR YOURSELF AT THIS LINK
WooCommerce
One of the best things I did at the end of 2016 was to get WooCommerce installed on this website.
It's essentially a shopping cart.
But, it's really increased our sales, as customers can order multiple things at one time upon checkout.
When a customer orders a download on this website it is emailed to them.
AND if our fans create a customer account on this website, they can log in at anytime in the future and access their purchased downloads as long as they are logged in when they purchase.
It has a lot of bells and whistles.
I like the simplicity of Woocommerce, but what I don't like currently is that they have all kinds of plugins you need to buy for functionality.
For instance, I'm looking to upgrade my current membership software, but it's going to cost me $500+ to do so with these folks PER YEAR as I have to purchase additional plugins to do it.
With that said, it's probably worth the investment.
They are constantly improving upon the product and it's constantly getting new bells and whistles.
If you are running a WordPress website, consider WooCommerce for your checkout needs AT THIS LINK.
Pretty Link
Pretty Link has been a very important WordPress plugin since I first found it a few years ago.
It allows to redirect links on the website AND rename the URL's.
Download Pretty Link for Free and consider Pretty Link Pro at THIS LINK.
I hope you found some of the products and services we utilize useful.
More may be added to this page in the future.
– Ringo –
DISCLAIMER:   Some of the products and services on this page pay us a profit or give us a credit if you do business through some of the links above.   With that said, I only post links to companies and products I trust.