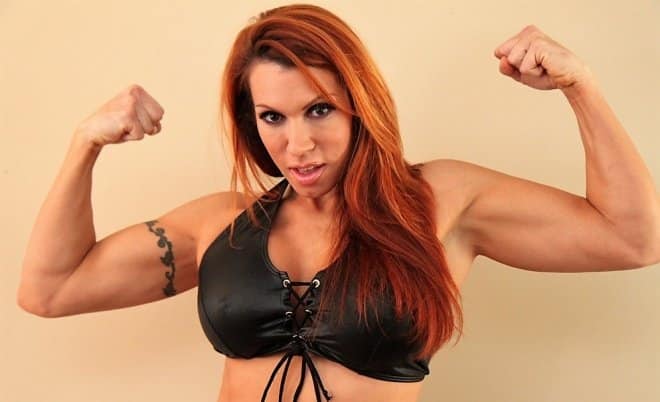 April Hunter is an American Professional Wrestler who debuted as a dancer in World Championship Wrestling – (WCW) – back in 1999.
After this, April trained with Killer Kowalski and it has been noted that she was the only female in the class.
April went on to compete in World Xtreme Wrestling and formed a tag team with fellow Kowalski graduate Nikki Roxx named THE KILLER BABES.
After this time April worked for companies such as Action Wrestling Entertainment, Carmen Electra's Naked Women's Wrestling League – (NWWL) – and then became a tag team partner with Talia Madison as a team named T & A in Women's Extreme Wrestling – (WEW).
April Hunter went on to make appearances at Total Nonstop Action Wrestling – (TNA) – she then toured with American Rampage Wrestling, worked for Shine Wrestling, and High Impact Wrestling Canada as well.
April also produced a lot of her own video content and appeared with companies on this website such as Cherry Bomb Wrestling, Ultimate Women's Wrestling, and many other wrestling companies from all around the world.
As for her personal life, April was born of German, Scottish and Italian descent.
She hails from Philadelphia Pennsylvania and was a fast rising and well known fitness model before joining WCW.
April studied photography and creative writing and she has no issue at all issuing her voice and opinion on the politics of the day if you follow her on social media.
One thing you can say about April Hunter is that she goes her own way in life and does her own thing.
Very respectable!
Here are some of her Championships and Accomplishments as listed on her Wikipedia page:
Far North Wrestling
FNW Women's Championship (1 time)
German Stampede Wrestling
GSW World Women's Championship (1 time)
Great Canadian Wrestling
GCW W.I.L.D. Championship (1 time)
Jersey All Pro Wrestling
JAPW Tag Team Championship (1 time) – with Slyck Wagner Brown
Jersey Championship Wrestling
JCW Women's Championship (1 time)
NWA Cyberspace
NWA Cyberspace Women's Championship (1 time)
Pro-Pain Pro Wrestling
3PW Tag Team Championship (1 time) – with Slyck Wagner Brown
Tag Team Royal Rumble (2004) – with Slyck Wagner Brown
Queens of Chaos
World Queens of Chaos Championship (1 time)
Pro Wrestling Illustrated
PWI ranked her #18 of the best 50 female singles wrestlers in the PWI Female 50 in 2008
USA Pro Wrestling
USA Pro Women's Championship (1 time)
Women Superstars Uncensored
WSU Hall of Fame (Class of 2011)
World Xtreme Wrestling
WXW Women's Championship (1 time)
Women's Super 8 Tournament (2003)
You can learn more about April at her personal blog entitled:  Putting the Clothes On, Taking the Gloves Off
April Hunter also makes some VERY cool looking soaps and scents at her Etsy store.
Buy Videos of April Hunter Wrestling Below!