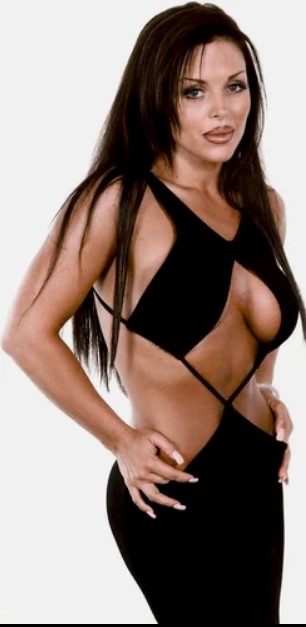 Height:  5 ft 3 in (1.60 m)
Weight: 100 lbs (45 kg)
Born:  March 23, 1973
Birth Place:  Seattle, Washington 

Melinda McCullum, also known by her ring name Midajah, is an American actress, singer and fitness model, former pro wrestler and valet for (WCW) World Championship Wrestling, World Wrestling All-Stars, and Ultimate Pro Wrestling.
In 1999, Midajah was brought into the wrestling world where she was made a female valet/manager for the (NWO) New World Order stable of wrestlers in the now defunct WCW promotion.  
Midajah was part of a group of fitness models (Tylene Buck, April Hunter, Shakira and Pamela Paulshock) known as the NWO Girls.
Midajah did not last very long in the wrestling world however.  After WCW was taken over by the World Wrestling Federation (WWF) in March 2001, Midajah went on to participate as a fitness competitor and model for fitness magazines. 
For fans wondering what happened with Midajah in her post WCW career, there is a bit of news below.
In an interview with David Penzer in 2019 she stated:
"I actually have been working in the beauty business I uhm have been doing hair and make up and creating my own wig line".
When asked about her memories of WCW and working with Scott Steiner she responded:
"I have so many great memories with him. He was, I mean, a loose cannon out there but with me he was a gentle giant. He helped me learn a lot of the moves. I guess my signature move was the cross body. He really encouraged that. Encouraged me in the ring and helped me get rid of a little bit of that stage fright. So, uhm, I have, I have great memories of everyone!".
If you want to find out what Midajah is up to these days you can follow her on THE OFFICIAL INSTAGRAM PAGE FOR MIDAJAH and check out her BEAUTY BY MIDAJAH products.